NEW! Fuzzy Martian and Friends Newsletter
Mirror Site for Fuzzy Martian's Lair.
Will be renovating this site soon.

Fuzzy Martian's Lair

Long ago, at an air force base in southern California, a fuzzy martian came to Earth. She was a strangely quiet being, intent on observing humanity. Then one day, she FREAKED......
Moral of this story:
Proceed at your own risk - you have been warned!!!
humans have ignored this mirrored warning.
For more humorous stuff, visit the Original Lair.
++ Fred, my tribble ++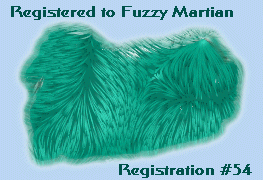 Come see Mysteria's DUSTBUNNIES!

Links to family and friends' homepages.
Awards this site has won. ==>Links to Snakeden site.
The Real Fuzzy Martian.
(Personal information and family pictures)



Member of DNRC - Coordinator of Poetic License (3/30/1998)
and Grand High Mistress of Exceptionally Entertaining Eccentricities (4/7/1998).


This site is linked to Sorcery Net.
Check out the FAQ section for information on IRC safety.


Webrings


This site owned by Amanda Doerr.
[ Random Site | List Sites]
This Inner Circle WebRing Site owned by Amanda Doerr
[ Previous | Next | Next 5 Sites | Random Site | List Sites ]
---
Copyright © 1998, Amanda D. Doerr