Listen, this is an older version of the site that was purposely made to look obnoxious. It's a matter of page design, not HTML. The colors and layout were meant to be of a moderately rebellious nature. If you don't like it, go somewhere else. No one's forcing you to read this page and I'm not being paid a single cent to make it match your expectations.

That said, I do have the ORIGINAL web address this site was once a mirror for updated in something sleek and artistic. I thought about updating this one too, but someone needs to remind some of you clueless morons that these are personal pages and not some freakin' corporate bribe.

The Remodelled Lair
No, I am not going to fix the broken links anytime soon. I have two children, a full-time job and an education to work on. Updating this site falls under cleaning out the closet on my never-ending to do list.

Fuzzy Martian's Lair

Long ago, at an air force base in southern California, a fuzzy martian came to Earth. She was a strangely quiet being, intent on observing humanity. Then one day, she FREAKED.

After awhile, she decided that this wasn't necessarily a bad thing, and vowed to enjoy the diversity that existed in her own being.
Moral of this story:
Proceed at your own risk - you have been warned!!!

Writings and such


Hobby Stuff


Silly Things



A True Story




++ Fred, my tribble ++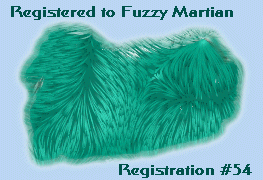 Member of DNRC - Coordinator of Poetic License (3/30/1998)
and Grand High Mistress of Exceptionally Entertaining Eccentricities (4/7/1998).



See My Playlist

Fuzzy Martian Revealed


Information and Trivia


Webrings



This site owned by Amanda Doerr.
[ Random Site | List Sites]
This Inner Circle WebRing Site owned by Amanda Doerr
[ Previous | Next | Next 5 Sites | Random Site | List Sites ]
---
Copyright &copy 1998, 1999 - Amanda D. Doerr